Vicki Rowland of Salem, Va., got an offer Monday that seemed too good to be true.
It came as a voicemail, left on her cellphone, by a woman who spoke fluent English, albeit with some minor hiccups. As a valued Comcast/Infinity customer, the message said, Rowland was eligible for a heck of a discount.
"Hi there, this call is to remind you that 50% discount off or on Comcast Xfinity account expires today. In order to avail the discount please call back at 866-396-3147 from 8 a.m. to 5 p.m. Pacific Standard Time. Thank you and have a great day."
Rowland and her husband have been Comcast Xfinity cable customers for roughly two years, since they moved to Salem.
Besides a few missing pronouns and articles, the odd parts of the message were the phrases "off or on" and "Pacific Standard Time." (The West Coast currently operates on Pacific Daylight Time.)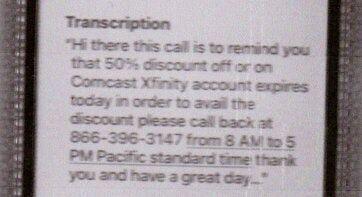 Curious, Rowland called the number, which was answered by a voicemail system that identified itself as Xfinity. She followed the prompts of the robot attendant. Ultimately, the phone was answered by a man who purported to be an employee of Comcast Xfinity.
Compared to the woman who'd left the voicemail, the guy had a lot more trouble with English, Rowland recalled. He was barely intelligible.
He told her she could get a 50% discount on her Xfinity bill for the next six months. But to "claim" the discount, she first needed to purchase some Target gift cards.
"He said, 'You can go to Food Lion, such and such stores, Target, and all these other places, like drug stores,'" Rowland told me. "That's when I hung up."
Email follows call to scammer
Then, within an hour or two, Rowland received an email, ostensibly from Xfinity, thanking her for her $192.53 payment. That message also correctly listed the last four digits of Rowland's Xfinity account number. The date on the email was Sept. 1, 2023.
Rowland was suspicious because her monthly Xfinity bill usually runs almost $20 less, at $175.31. Typically, Xfinity auto-drafts the latter amount from her checking account, and emails her a different-appearing notice, Rowland said.
So she visited her credit union, where an employee assured Rowland no such draft had been received or processed against her account, nor would it be in the future.
Next Rowland contacted me, assuming she isn't the only local Xfinity customer to receive the same scam pitch. That's probably a solid guess — typically, only one or two people out of a hundred fall for such games. She wanted to warn others not to get taken.
She was also concerned that her account information Xfinity had become compromised.
To understand the process a bit better, I called the 866 number in the voicemail Rowland received and posed as an Xfinity customer. It was answered by an electronic attendant.
"Thank you for calling Xfinity," the message said. "This call may be monitored or recorded . . . If you know your party's extension, you may dial it at any time. For technical support, and for all other inquiries, press zero."
It sounded official and legit.
I pressed zero. And soon I was talking to a character who identified himself as "Jake." He had a thick accent. He and I were on the phone for a little longer than 20 minutes.
Offers 2-year discount on cable TV
"Jake" told me I could cut my Xfinity bill almost in half. He put me on hold for a couple extended periods. During those, a recording reminded me of the partnership between Target and Xfinity that could get me 50% off my cable bill.
When Jake returned and asked for the phone number associated with my account, I gave him Rowland's (which the scammers already have).
He didn't ask for my name or anything else. He told me I was paying $192.53 monthly, and that the company's promotion with Target would cut that bill to $100 per month — for the next two years. That adds up to $2,220 in savings.
"Sign me up!" I replied. Jake asked for the name of any major retailers near my home. I told him Kroger was less than 2 miles away.
He told me to go to the supermarket, purchase two Target gift cards and have the checkout clerk load them with $300 each. He warned me the Kroger employee might get nosy.
If they inquired about the purchase, Jake instructed me to say, "This card is for my personal use, that's it." If I mentioned the discount, Jake added, Kroger would charge me a 25% service fee on the total purchase price. (All of that's a crock.)
Jake also recited an "authorization code," XFI-536, and told me to write it down and repeat it to him. I did.
Once I was out of Kroger, Jake said, I should call another number that began with an 833 area code, and give the person who answers my authorization code. So I called it, and once again, I went through a voicemail menu and pressed "zero."
A heavily accented male voice answered the 833 number. Remarkably, he sounded an awful lot like "Jake." I gave him my authorization code, told him I was claiming my discount, and added that I had my Target gift cards in hand.
He instructed me to open the cards' packaging, scratch off the security tape on the back, and read him the numbers underneath.
"I can't do that, I could lose my $600," I replied.
"See, I've read all kinds of newspaper articles about unlucky people losing their money by reading gift card numbers over the phone to people they've never met."
Then I asked, "Why would Xfinity offer a promotion that mirrors a well-known scam?"
As you might imagine, the call ended rather abruptly.
Next, I wrote an email to Thomas Karinshak, executive vice-president of Xfinity for customer service. Charlie Schoenthaler, the spokesman for Comcast's Washington, D.C., region, replied Wednesday afternoon.
"Comcast will never request a specific payment method such as merchant gift cards or wire transfers," Schoenthaler said.
Comcast/Xfinity customers who receive suspicious calls should report them to the Comcast Security Assurance team, at abuse@comcast.net, Schoenthaler added. Customers also can call Comcast/Xfinity at 800-565-4329 to speak with Comcast support. That's the company's real toll-free customer-service number.
According to Xfinity message boards, this particular scam has been happening since December. And some customers were apparently taken in by the real-sounding voicemail system.
'Jake' calls me back
That wasn't the end of my adventure with the phone scammers, however. A couple of hours after the second call "Jake" called my cellphone. Guess what?
He was calling from the same 833 number Jake had instructed me to call after I bought the Target gift cards.
Jake said that because I hadn't fulfilled the requirements of the "promotion," he was adding a $300 "cancellation charge" to my Xfinity account. It sounded like a threat.
"There's no account to which you can add a charge," I replied. "I made it all up. I'm a newspaper reporter writing about the scam you're operating."
Jake spent the next five minutes trying to assure me it wasn't a scam. I advised him he was wasting precious time that he could otherwise devote to scamming senior citizens.
"You're stealing money from little old ladies," I added. "How do you sleep at night?"
They are persistent, these scammers. Be aware of their tricks.