GREENSBORO — Mike Holmes stood on a downtown sidewalk Wednesday evening holding a sign that read "Justice 4 Tiffany" with photos of his sister, Tiffany Holmes-Williams, whose death is being investigated as a homicide.
He was among the family and friends who gathered to honor the 32-year-old Greensboro woman with a balloon release near the area where she died.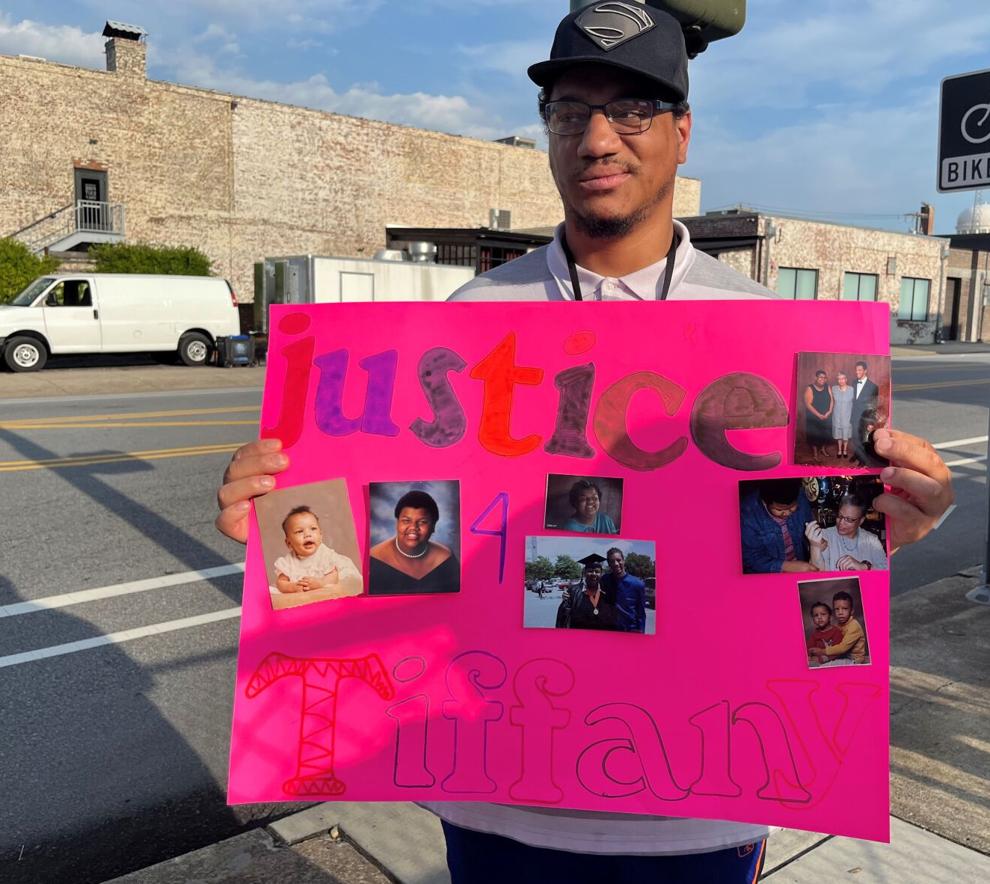 Police said her body was discovered, with a gunshot wound, early Aug. 2 inside a small building at 106 S. Church St., which is located near the former News & Record building at 200 E. Market St.
A police department spokesman said last week that Holmes-Williams was experiencing homelessness.
"She never bothered anybody. She didn't deserve this," Cierra Fernandez said of the woman she considered a sister because of their close bond. "She had a heart of gold and she loved people."
Melvin Orlando Williams, who goes by "L.A.," said it was important for him to attend Wednesday's vigil to help raise awareness about his wife's homicide. 
"I just want people to please have the courage to come forth if you know something. You can stay anonymous, but tell someone," said Williams, who said he and Tiffany would've celebrated their sixth wedding anniversary in October. In total, the couple was together for 12 years, he said.
"I know she's with God now," Williams said.
Jannie Wesley, Tiffany's godmother, attended the vigil and spoke about the importance of seeking justice for Tiffany's husband, family and friends.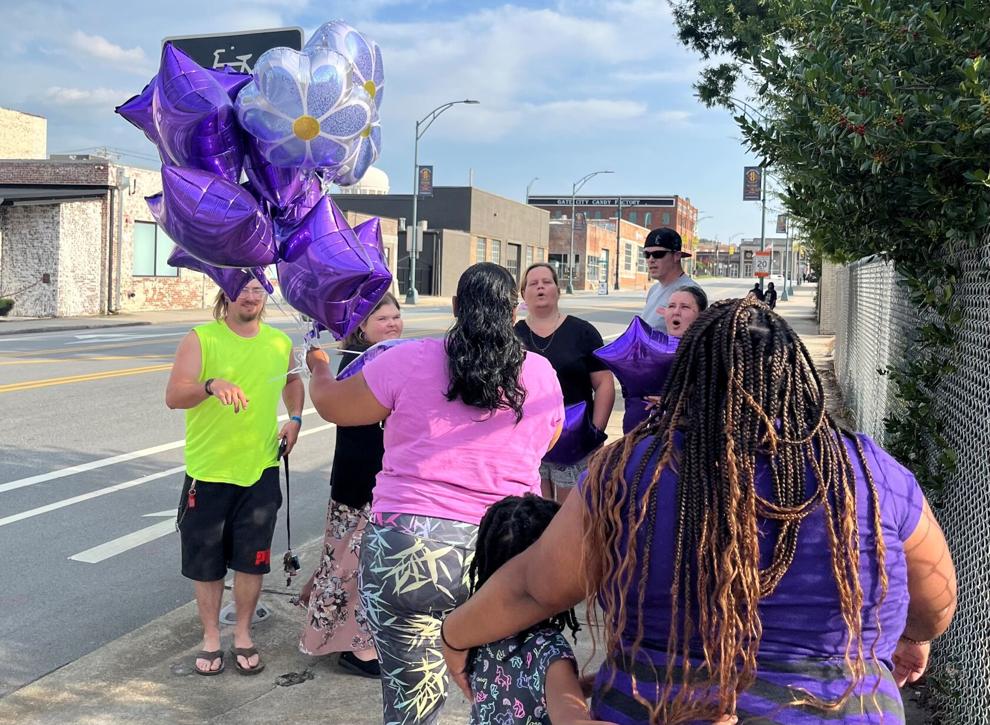 "I love her and I'm going to miss her so much," said Wesley, who described Tiffany as "lovable" among those who knew her.
Angel Martin sang at the vigil moments before family and friends released balloons, mostly purple, which was Tiffany's favorite color.
Rebecca Deel, who does community outreach in the area, said she met Tiffany and quickly became friends with her.
"Tiffany leaves a hole in the community," Deel said while attending the vigil Wednesday. "She was authentic. She spoke her mind. She also loved to laugh and loved to smile. She helped a lot of people. She was loved out here and cared for."
Family members say she was hopeful and was working toward getting into an apartment at the end of the month. She was also eager, they say, to find work caring for the elderly, which she loved.
Police have not released any additional information about the homicide. It's unclear what happened prior to her body being found in an abandoned downtown property.
The site is owned by a company that formerly owned the News & Record. Berkshire Hathaway — the multinational conglomerate owned by Warren Buffett — retained the property when it sold the newspaper to Lee Enterprises Inc. in January 2020. The lot has been viewed as a blight on the city as weeds have taken over, and downtown observers noted homeless people in the area.
"She had family to go to," Fernandez said. "She chose to make her own decisions. She was very independent. ... She didn't really ask for much. She didn't deserve that, and she should have justice."
Deel said Holmes-Williams was always willing to help others and that her death is felt far beyond another crime statistic.
"She was a person. Her life mattered," Deel said.